Looking after a family member who has dementia - whether it's an elderly parent, or an ageing husband or wife – is the most important job you will ever do. It can also be one of the most challenging. It's important that you feel supported and get the help you need.


 
Why do carers need support?
If you're caring for a loved one living with dementia, you can feel so many emotions all in one day – sometimes in one hour. You may swing from feeling like you're connecting to your loved one, creating a calm, organised environment, to then feeling like the day is out of your control. This can lead to feelings of frustration, sadness, and may begin to make you feel isolated and worn out.
Dementia Services Manager Adrienne Garnam recognises that when you're caring for someone 24/7, there are times when you need a break, but just don't know who to ask.
"If your loved one has a cognitive impairment which is affecting their mood, behaviour, or daily activities, you might feel uneasy asking a neighbour to pop in to mind your loved one while you run some errands. You need someone who understands and has experience, as well as patience," she said.
"Sometimes the idea of asking for help or getting someone to step in can also trigger feelings of guilt, because you worry about what other people may think if you're taking time out - even if it's just for a short period."
Ms Garnam said getting that extra hand could be the difference between you feeling supported to keep doing the valuable job you're doing or having your own emotional and physical health take a tumble.
"As a carer, it is so important that you look after your own needs and maintain your own quality of life so that you can continue to care for your loved one," she said.
Respite for carers is a crucial part of any care giving plan, because people who are caregivers for family members and loved ones are often under a lot of stress and may be prone to health conditions themselves.
Now is the time to get yourself into a better routine and reach out to get the help you need.
Respites services for carers
At integratedliving, we have Activity Centres for day visits and Respite Cottages for stays up to 7 nights which are tailored to suit people living with dementia. Your loved one can spend time with us in a supported and caring environment. Our Support Workers can also come to your home and look after your loved one. With experience and understanding in looking after our ageing community, including people living with dementia, they can provide you with much-needed support.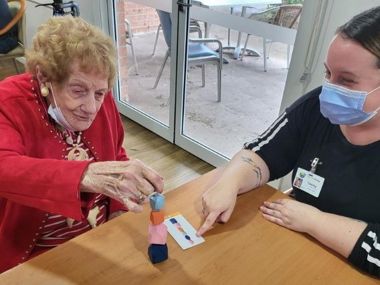 Taleiha Hobson-Rozyn, Activity and Respite Team Leader with client Rhona.
" I work alongside clients to help them achieve goals which may be to maintain their independence, mobility and/or memory. We use a holistic approach when creating activities for our clients and provide a range of options for varying abilities and interests. I think the most fulfilling part of working within the Activity Centres is seeing clients smiling and enjoying themselves - whether singing, creating a masterpiece or forming new friendships - not only with other clients but with staff and volunteers too."
Why is respite important for carers?
A day at an Activity Centre, a night at a Respite Cottage, or just having a Support Worker come to your home for a few hours, gives you the time you need to catch up on those little jobs you've been putting off, like going to the doctor yourself, or to the hairdresser. Maybe you could even enjoy meeting a friend or family member for a coffee; or having a good rest at home.
Respite days for carers will help you feel:
Supported – because our staff become your wider support network who you can talk to and who will be able to help care for your loved one. You will also have time to catch up with other friends and family members, which will help you feel less isolated.
Rested – emotionally and physically. Having that one day or night regularly will help to reset your energy levels. This will give you the ability to cope with the daily activities by giving you the ability to look at the situation from a different perspective.
Organised – you will be able to get on top of those little jobs and errands that you've been wanting to do, and this will make you feel less overwhelmed and overloaded. This will provide some balance in your life.
Respite care can help your loved one too!
Each person has their own individual needs and at integratedliving we treat each person with dignity and respect. We listen to them patiently and encourage social interaction.
"Human connection is so important for people living with dementia. When a diagnosis of dementia is first made, you may become concerned that friendships and support networks may begin to diminish over time due to your loved one's increasing needs. This may even contribute to you, as a carer beginning to withdraw yourself from your own social networks," Ms Garnam said.
At our Activity Centres our friendly staff provide a warm and welcoming environment with meaningful conversation, activities and friendship. We also encourage a healthy and active lifestyle through our range of supportive and inclusive activities that embrace the uniqueness of each individual.
_______________________________
_______________________________

Ms Garnam said listening to a sing-along, painting a picture, participating in arts and craft, or doing some gardening, can be enjoyable and rewarding. It can help a person living with dementia by:
Encouraging communication
Providing mental stimulation
Promoting social connections
Improving mood and emotional wellbeing
Supporting movement and motor skills through activities.
Providing more variety with social stimulation and relationships
Maintaining independence both socially and physically.
Many of the activity classes on offer at our Activity Centres can also be accessed virtually via a computer, laptop or tablet including: 
Let's Have a Conversation – make new friends and connect online in the comfort of your own home. 
Arts and craft sessions. 
Games and trivia. 
Music and singing. 
Learn and discover
Movement Classes and Stretch and Flow
Respite care for carers is an essential part of your journey to ensure you are staying well and healthy. We are here to support you so that you can continue spending time with your loved one in the comfort of your own home for as long as possible and practical.