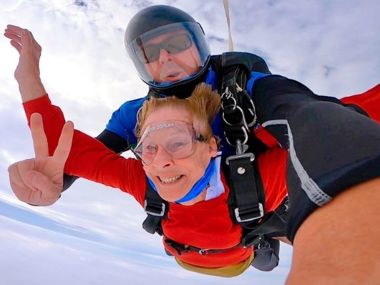 We're very excited to bring you another edition of our Live Well Magazine after a challenging and unprecedented 2021. Featuring a fresh new look introduced this year, it's full of stories to inspire you to live well and feel better. And you can now hear some of these in audio form on our new Live Well Podcast, bringing you inspiring stories from staff and clients about wellbeing, mobility, specialist support and special relationships.
Read about the latest news including:
Our client Veronica goes skydiving for her 80

th

birthday – talk about sky-high ambitions!

 

Our response to the COVID-19 pandemic, and how we've remained committed to your safety and wellbeing.

 

An update on our 2021 Client Experience Survey.

 

Our brand-new Live Well Podcast – click the link above to see how you can 'tune in'.

 

Our Core by integratedliving App launching initially in Queensland, furthering our commitment to improving access to health services in the communities in which we operate.

 

Some tips and tricks for looking after your mental and emotional health at this busy time of year.

 

How to stay safe and cool this summer.

 

Keeping bushfire ready.