If you ask Muswellbrook man and integratedliving Australia volunteer, Shane, why he dedicates his free time to delivering meals to older Australians living remotely, his answer may resonate.
"I looked after my Grandma as a carer for 12 years. It's quite common for family members to take on that role. I would make sure her fridge was full and meals were prepared. We loved having chats about everything and anything," he reminisced.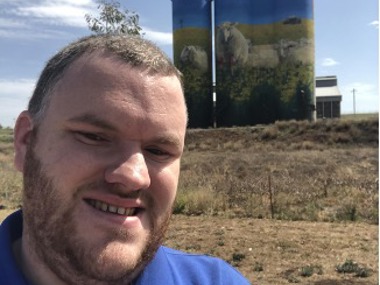 Volunteer Shane on one of his meal delivery rounds.
When Shane's grandmother passed, he felt one way to honour her memory was to continue offering his caring skills to other locals in the area who would benefit from a little extra help. Shane answered the call from integratedliving Australia three years ago, volunteering to deliver meals to older Australians living in regional, rural and remote locations in the greater Muswellbrook district.
"I have a great deal of empathy for people who wish to continue living in their own homes, in the areas they know and love," he said.
Shane lives with a learning disability and shares that the work he does to deliver meals in remote locations is highly valued in his area.
"Our clients love having a chat at the door as I deliver their meals. They feel looked after that we come to them, especially as services in the area they live are limited. The clients I'm helping are really happy with the new Lite n' Easy meal choices we offer," Shane added.
Shane has always been interested in volunteering. As well as delivering meals for integratedliving, he volunteers at his local SES and Regional Fire Service.
"My Grandma used to say, 'Go and make someone's day' and that advice is now my motivation in this role," Shane reflected.
Find out about our Meal Delivery service.