A very proud co-worker submitted this story about a fellow support worker's kindness.

My contribution to the Wave of Thanks is to highlight a marvellous event that occurred on ANZAC Day 2020 during the COVID-19 total lockdown period.

Briefly, my team works the western area of NSW - Parkes. We often travel many kilometres to deliver daily services in remote places. We are a small but dynamic team of fantastic ladies that often go above and beyond to deliver essential services and social support to our little group of amazing elderly clients.

My telling is about a fellow support worker: Rhonda Mason during the lockdown of COVID-19 that included ANZAC Day of 2020.

In true Rhonda style, she spent her day off on 24 April painting and cutting out dozens of red cardboard poppy flowers as buying fresh poppies out here, in lockdown, was not an option.

ANZAC morning arrived very early for Rhonda. At 4.30am Rhonda drove almost 50 kms to the small township of Peak Hill NSW in the cold and dark predawn to reach our oldest ANZAC, Mr Bruce Allen, (97 years young) to wake and ready him and escort him to his front gate in time for the sunrise and the playing of the Last Post on ABC radio. Mr Allen fought in WWII in the Airforce and is a proud ANZAC. It was very important for Mr Allen to acknowledge ANZAC Day and remember the fallen as he has done every year.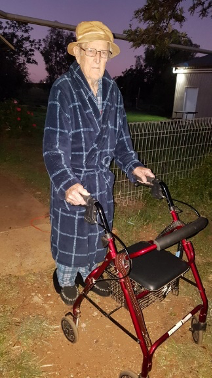 Rhonda afforded Mr Allen the opportunity to physically take part in the "dawn service" at home whilst in lockdown.

Following this auspicious sunrise and managing to walk back inside without his wheelie walker being tripped up by the masses of poppies on his path, Rhonda proceeded to cook her version of a Gunfire Breakfast which was bacon and eggs. Social support was further provided well into the morning with Mr Allen retelling stories from the past, with both Mr Allen and Rhonda wiping back tears many times. If she could have figured out how to play 2 Up, that would have been on the agenda too.

Rhonda's caring and selflessness touched us all during the uncertain times we've currently experienced with lockdown. The effects of this kindness are beyond words for Mr Allen and serves to remind me of why we all do what we do.

A proud team mate!