Hello everyone,
A lot has happened since my last update to you late last month, with the Delta strain of COVID-19 continuing to spread around the country. The current situation in Greater Sydney is very concerning, with the stay-at-home orders further extended and last night the Victorian Premier announced a five-day snap lockdown for Victoria to try to eliminate a new outbreak. Other states and territories are on high alert and borders are closed once more to hotspot areas. Once again people's plans have been interrupted, holidays cancelled and for many a long and difficult separation from loved ones continues.
Support is available
I am mindful of the toll these latest outbreaks and lockdowns are having on people right around the country. For those in lockdown, stress is having a significant impact on people's health. We have both clients and staff affected by the lockdowns and want to assure you that we will do everything we can to support you through this difficult period.
To our wonderful clients, I ask that you reach out to us if you are struggling in any way, and we will do everything we can to help you find the support you need. We are here for you.
We are telling our staff the same thing. We have been in this together from the start of the pandemic and have supported each other with resilience and kindness and we'll continue to do this.
If you need support, please reach out to your General Practitioner or one of the many organisations offering free supports by phone. A list is included below. As I mentioned above, please speak to our staff when they are with you delivering services or call our Customer Service Centre on 1300 782 896. Sometimes, just having a chat with someone can make a world of difference.
COVID-19 support line for older Australians (Mon-Fri 8.30am – 6.00pm) – 1800 171 866
Lifeline – 131 114
Beyond Blue – 1800 512 348
Visit the Head to Health website
Don't forget we offer Social Support Calls and Home Visits as part of our suite of services to keep you feeling well and connected.
Have you been vaccinated?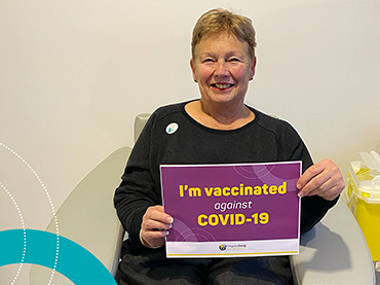 Catherine getting her vaccination.
If you haven't already been vaccinated against COVID-19, please speak to your General Practitioner or make an appointment at your local vaccine clinic. Your GP can direct you to your closest clinic if they are not administering it.
I have recently received both doses of the COVID-19 vaccine and now feel much safer knowing that I am fully vaccinated. Vaccination is the most important thing we can do to protect ourselves, our loved ones and our community. I encourage everyone to get vaccinated as soon as you can.
Thank you
I'd like to thank all our clients for supporting our frontline staff with all the various measures we have in place to reduce risk and protect everyone. Our frontline staff are dealing with almost daily communications regarding the latest outbreaks and lockdowns and are doing an incredible job of continuing to deliver your services safely. For clients in the Greater Sydney lockdown areas, thank you for wearing a mask when our staff are present in your homes, as per NSW Health advice.
As previously mentioned, our staff will continue to do the following every day:
Staff self-screening and client screening (which includes ensuring staff or clients have not visited a case location or venue of concern)
Hand hygiene and cough etiquette 
Physical distancing (1.5m) 
Staff are to wear a surgical mask where physical distancing is not possible and when indicated in our Infection Prevention and Control Procedure. 
In areas affected by lockdowns, outbreaks and restrictions, as is currently happening around the country, we mandate additional measures to further protect both our clients and staff. For example, in Victoria currently, staff must wear eye protection as well as a mask when delivering services.
Currently, staff in most service areas will be wearing a surgical mask when they deliver your services.
Please stay safe and take care.
Catherine Daley,
Chief Executive Officer