As you get older, you may notice you are feeling the impact of higher temperatures and humidity more than you did before. This isn't a figment of your imagination. 


It's true that older people are at a greater risk of heatstroke and dehydration. This could be due to ill-health which effects your respiratory system or even medications which might impact on how you respond to changes in temperature. This is often how you can get yourself into trouble in the hot summer months, suddenly feeling the ill-effects of dehydration or heat stroke, without realising it.
It's important that you think about your daily activities and plan ahead so you aren't forced to endure the extreme temperatures and humidity. As the mercury climbs, here are some hot weather safety tips for seniors.
Drink….drink…drink (water that is!) 
How much water should seniors drink? It's important to drink plenty of water and keep hydrated even if you don't feel thirsty. It's easy to forget to drink if you're just pottering around at home and you may not realise that you're getting dehydrated.
Similarly, if you are moving about and are perspiring profusely, add an electrolyte to your water. These contain sodium and potassium, which help your body absorb the water more quickly. 
Not having enough water in your system can make you feel faint or nauseous which can lead to dizziness and falls. So, drink and then drink some more! 
Please speak to your GP or specialist before increasing your water intake if you have been notified of having a fluid restriction. 
Keep your home cool 
If you have air conditioning in your home, remember to close the doors in the room you are cooling to help it cool down faster and to keep the electricity costs down. 
If you are concerned about the cost of running the air conditioner, make sure you use a fan in the hottest part of the day.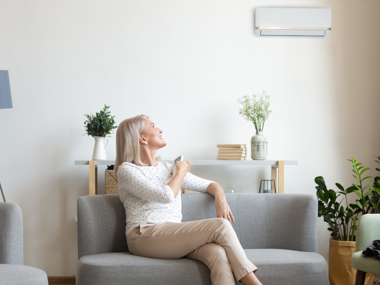 You can also draw the blinds to stop the heat from the hot sun on the windows and look at installing external window coverings, shade cloths or blinds on the side of the house which faces the sun.
When there is a cool breeze outside, open the windows and doors of your home to allow the air to circulate around and assist with cooling the house down.
Get organised with these summer safety tips
Put some wet handtowels inside the fridge ready for when you need them. Place them around your neck to help cool your body down.
Placing your feet in cold water will also help. 
When leaving the house, plan ahead and take plenty of cold water with you. Freezing a bottle to drink later is also helpful.  
Prepare for predicted extreme heat waves by stocking up on food, water and medicines so that you don't have to leave the house.
Make sure that you store your medicines at the recommended temperature and ensure they are not left in a very hot location where the sun and heat might affect them. 
Park your car in a shady undercover carpark where possible so it doesn't get too hot. 
Ensure your mobile or landline phone is at arm's reach and if you start to feel faint or unwell, dial 000 immediately. 
Re-think outdoor activities
Many of us love our gardens, need to hang out washing, or walk the dog, but during the summer months, we need to avoid doing activities outside as much as possible. 
If you must go outside when it's hot, ensure you wear a hat and loose-fitting, light-coloured clothing made from natural breathable fibres like cotton and linen.  
Or head outside early in the morning around dawn when it's not so hot so that it's easier to do those little outdoor jobs.  
If you are worried about getting your lawns mowed or needing help around the garden, integratedliving can provide assistance with yard maintenance so that you can keep the place looking nice but not put yourself at risk when it's so hot over summer.
When it's just too hot at home 
If you're concerned about running your air conditioner all the time and can't get cool at home, there are plenty of places you can go.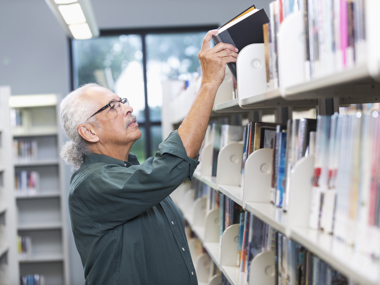 Public libraries, recreation centres, senior centres, and shopping centres all provide free access inside a cool building, which can be a good option on those really hot days.
If you can, park your car undercover so that it's not unbearably hot for your return trip home.
Act fast if you don't feel well 
Keep a look out for these symptoms as they are often related to heat-related illnesses. 
Feeling dizzy or faint 
Nausea or vomiting 
Headaches 
Feeling over tired 
Having a rapid pulse 
Muscle cramps 
Cool clammy skin
Excessive sweating 
In some severe instances, you can find yourself suffering from heatstroke which is a dramatic rise in the body temperature. This is extremely serious and if it's not treated quickly, it can be fatal. Symptoms of heatstroke include: 
Body temperature higher than 40 degrees Celsius 
Throbbing headache 
Confusion 
Red hot, dry skin 
Lethargy 
Feeling faint or fainting 
Call 000 
The temperature in Australia in summer can be dangerous, but these valuable tips can help you stay safe and enjoy the warmer months.