Benefits
The Short Term Restorative Care (STRC) program is suitable for those with mild to moderate frailty and is customer focused, flexible and tailored to help individuals achieve their health goals.
The STRC program is coordinated by integratedliving's specialist staff that work alongside program participants to support them to regain and maintain their lifestyle.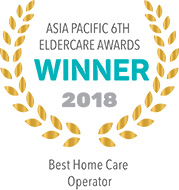 Multidisciplinary services for a range of needs.
Holistic support ensures all your health needs are covered.
Regain and maintain your independence.
---
About the program
The STRC program provides access to many different types of services and supports older Australians to live independently in their own homes. Some of the services provided by the program can include;
Nursing
Occupational therapy
Physiotherapy
Audiology
Speech Pathology
Optometry
Podiatry
Psychology, social work or counselling support

 

Dietitian and nutritionist services
In home help including personal care
Home upkeep services including gardening, lawn and home maintenance
Exercise programs.
The Short Term Restorative Care program is currently available in the below regions:
The Hunter and Illawarra Region, New South Wales
Far North, Northern and the Wide Bay Region of Queensland
East Arnhem Region, Northern Territory
The Gippsland Region, Victoria.
If you are interested in the program and you live outside of these regions, please call our Customer Service Centre on 1300 782 896 for more information.
Eligibility criteria*
You need to be aged over 65 or over 50 for Aboriginal & Torres Strait Islanders.
Some services may be available to people aged under 65.
*Other eligibility criteria may apply Contact us for more info.
---
How can I pay?
There are several ways to access our services and programs, including the funding options outlined below.
Government Funding

Home Care Package, Commonwealth Home Support Program and Department of Veterans Affairs options.

More information
Private Pay

You can choose to pay for our programs and services yourself.

More information
---
More resources for you

Find more aged care services
You can choose which services you want and we'll make a package tailored for you.